Overview
A brief introduction to Crystal Cove SP Moro Campground
Crystal Cove State Park is a state park of California, United States, encompassing 3.2 miles (5.1 km) of Pacific coastline, inland chaparral canyons, and the Crystal Cove Historic District of beach houses. The park is located partially in Newport Beach and partially in an unincorporated area of Orange County, and is part of the larger South Coast Wilderness area. Crystal Cove is a stretch of coastal cliffs and a beachfront cove situated between the Pacific Coast Highway and the Pacific Ocean, southeast of Newport Beach and northwest of Laguna Beach. The 3,936-acre (1,593 ha) park was established in 1979. The entire park hosts a total of 3 miles of beaches and tide pools, a 1,400 acre marine Conservation Area as well as underwater park, 400 acres of bluffs, and 2,400 acres of canyons.
ARE Crystal Cove State Park Moro campsites SOLD OUT?
We can help! Many campsite reservations are cancelled daily. Just tell us when you'd like to camp at Crystal Cove State Park Moro , and how long you want to camp for. We'll text you when a suitable spot opens up!
Scan for cancellations
Contact Crystal Cove State Park Moro
Spotted an error?
Whoops! Sometimes we make mistakes. Want to help improve the Crystal Cove SP Moro Campground listing? Please suggest a correction.
Reviews
Camper reviews for Crystal Cove SP Moro Campground
Stunning campground, so quiet and clean!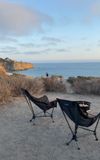 Crystal Moro is very popular and challenging to get a weekend spot, especially in the summertime, but don't let that thwart your attempts. One stay there and you will see why it is so in demand The location is absolutely pristine and all of the sites have an ocean view. They don't allow wood fires which actually is sort of nice and allows for a reprieve from all the campfire smoke. Bring a propane fire pit!
Camp Nab Saves the DayS!
Thank you so much for helping our family secure numerous campsites throughout CA! You allowed us to create memories by having a place to stay. Camp Nab all the way, Camp Nab saved many days!
Awesome location
If you like perfect weather, hiking in the hills, strolling on the beach, watching amazing sunsets from your campsite or easy access to some fantastic restaurants, then Crystal Cove is for you. We stay here frequently and it is always a great trip.
Bring clean clothes
One of the newest state campground, most of the campground lacks hookups. You aren't allowed to use stakes for your tents and there's always wind. The restrooms are new and clean, and the cell service is top-knotch. And there's Wi-Fi. If the red flag isn't flying yet…here we go…
This is #vanlife central. Those solar panels get full sun, and once the morning surf has died down, the boys come back to their van, pace their campsites, on their AirPods talking about synergies and aligning.
The campground is located close to Irvine, and the closest strip mall as an Aston Martin dealership. Bring all your fancy camping gear.
The hikes in the park are enjoyable and of all different hiker levels. But really, just stare at the ocean…while listening to Surfer Boy Bob talks code.
Map
View a map of Crystal Cove SP Moro Campground
UNABLE TO RESERVE A CAMPSITE?
Get notified when a sold-out campground has availability
Tell us when, where, and how long you want to camp for. We'll notify you (via SMS) when a suitable spot opens up at that campground—so you can nab that sold-out campsite reservation!