As you already know Campnab monitors sold-out campgrounds for openings, and will notify you when there are campsites open at your favorite campground. We've seen hundreds of thousands of spots open up—and our members have experienced success in booking these sold out sites. (Some are pretty happy about how well it works for them.)
That said, Campnab isn't for everyone. Maybe you don't want to wait for text messages with new campsite availabilities. Looking for something less familiar? Interested in finding a place to set up your overlanding rig? Or, would you like to try a stay on someone's private land? The following are some Campnab alternatives that might help you find a campsite that fits your needs.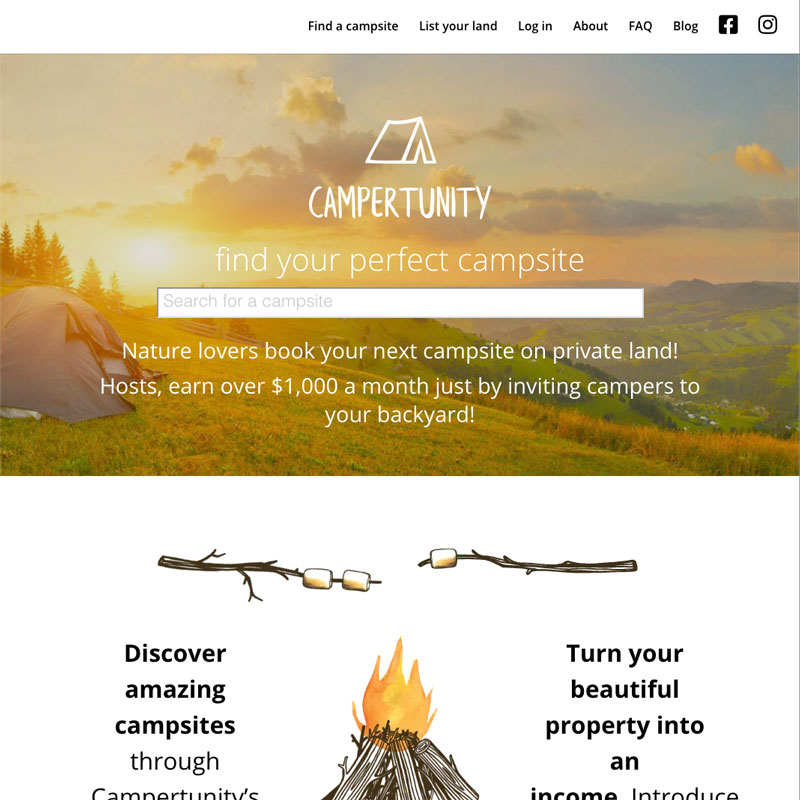 Campertunity: Access unique private lands across Canada
Campertunity allows you to camp in picturesque settings—and expand your available camping options. They do so by allowing private landowners to open up their properties to campers. Campertunity offers camping locations across Canada ranging from lakefront spots, to forested areas, and even farms (some of which offer agri-tours). Campertunity's creators like how their product connects worldwide campers to Canadian hospitality, while stimulating local economies.
Browse campsites on private land on Campertunity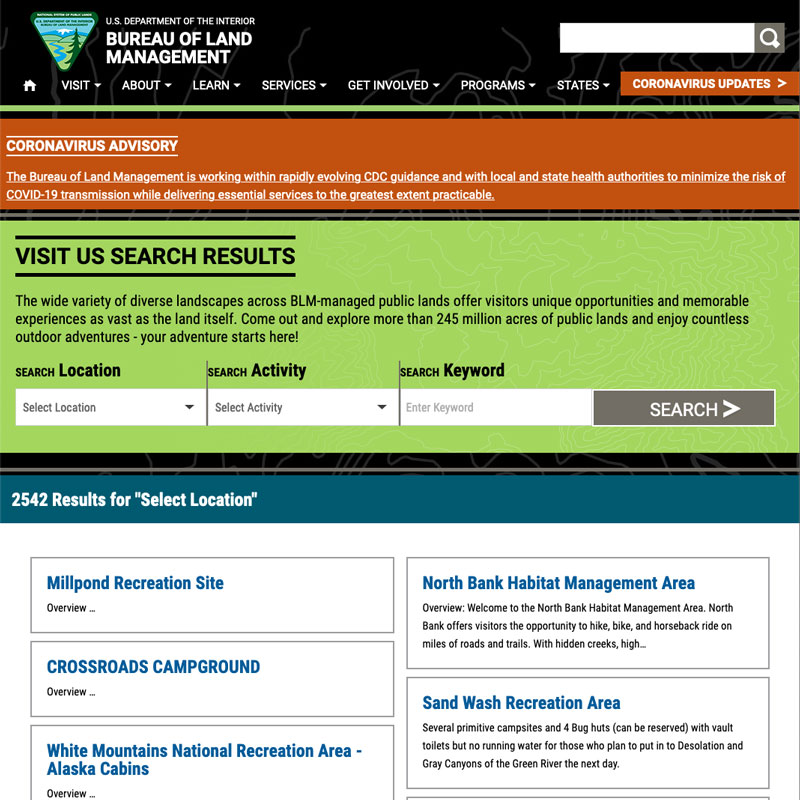 Bureau of Land Management: Camping on public lands
Looking to throwing a sleeping bag on the ground in the backcountry? You might want to try dispersed camping (camping away from developed recreation facilities, on public lands). The Bureau of Land Management (BLM) manages 1 in every 10 acres of land in the United States. It allows you to camp on public land for up to 14 days in 28 days. If you do, make an effort to avoid disposing of refuse and sewage—and do your part to protect your public lands.
Discover dispersed camping opportunities via BLM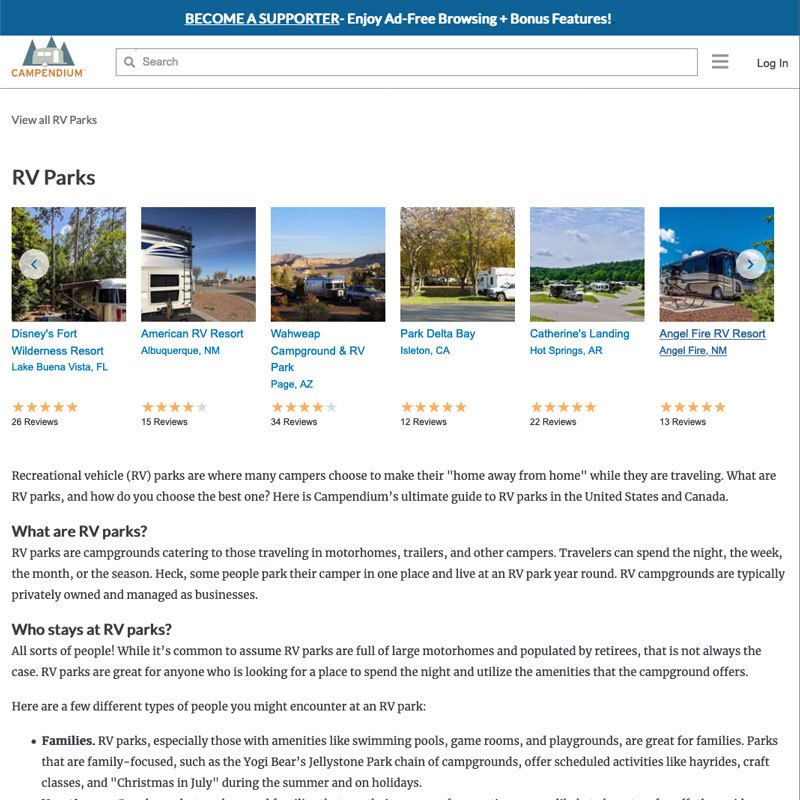 Campendium: Database of campgrounds
Campendium's database of campgrounds is a dense resource of camping information. It's made powerful through its involved community that reviews campsites, provides ratings, and shares photos. This allows the site to offer up-to-date information, which makes it particularly useful. They offer information on national parks, national forests, and state parks. That said, if you're looking for alternative campsites, you'll probably do best by searching their RV park directory and free campground listings.
Find an RV Park or Free Camping on Campendium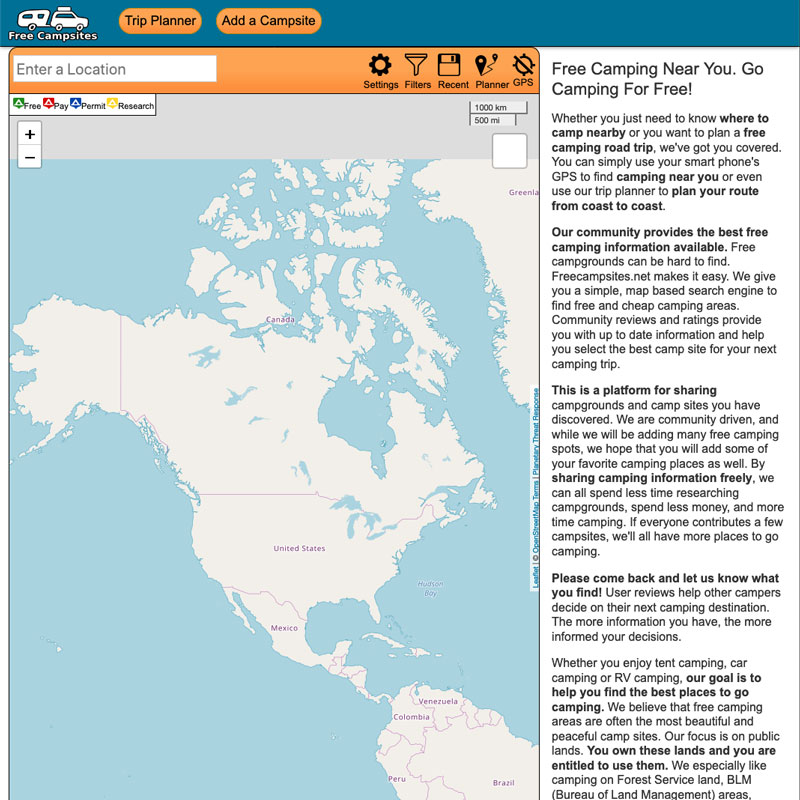 Free Campsites: Navigate to free campgrounds via map
Albeit dated in appearance, Free Campsites is a community-driven site that helps you find free and cheap (less than $12/night) camping areas. You can search for campsites by place name, or just zoom and pan via the site's prominent map. When you find a suitable location, their community reviews and ratings offer information to help you select a campsite that suits your needs. The service's trip planner can also show you possible stops based on your journey's route.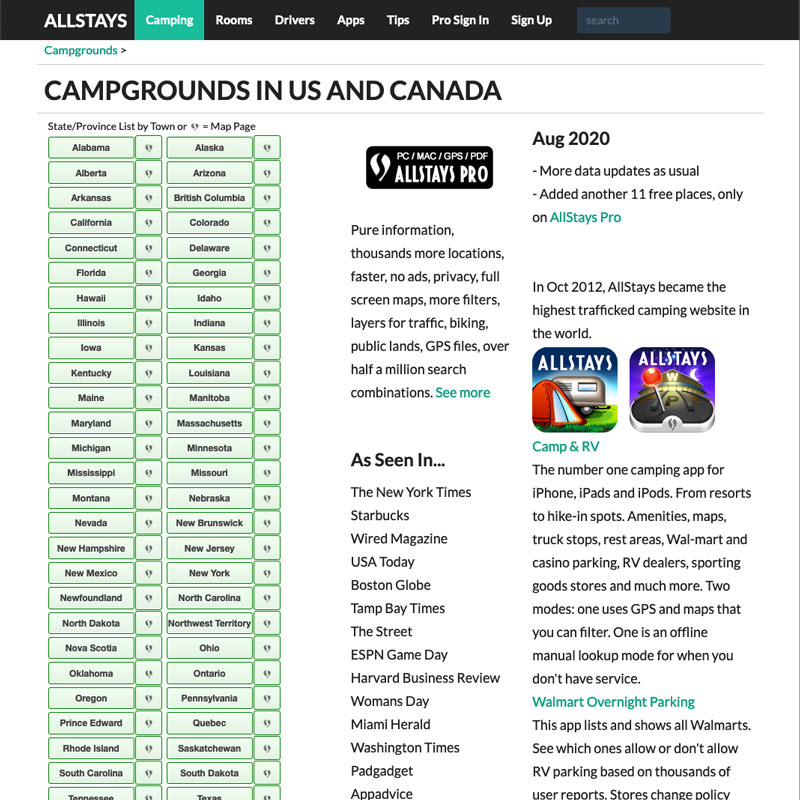 Allstays: Database of RV parks, rest stops, and campgrounds
If you're heading on a road trip, you might find Allstays useful. In addition to campgrounds, they also highlight rest stops, RV parks, and even parking lots (not awesome, but sometimes necessary in a pinch). You can view some of this information on their website or download one of their paid apps which allow for offline search.
UNABLE TO RESERVE A CAMPSITE?
Get notified when a sold-out campground has availability
Tell us when, where, and how long you want to camp for. We'll notify you (via SMS) when a suitable spot opens up at that campground—so you can nab that sold-out campsite reservation!