Overview
A brief introduction to Edisto Beach State Park
Ready for a break? Edisto State Beach Park is so relaxed it's nicknamed "Edi-slow". As part of the beautiful ACE Basin, visitors appreciate the area's undeveloped nature and tranquility. Set up camp, and take a walk on the park's trails. Or, go beachcombing for seashells and fossils while the Atlantic's waves roll in.
Camping at Edisto State Beach Park
Edisto State Beach Park is open year-round and loved by many for its beach access and natural beauty. The park contains one beach campground (Edisto Beach) overlooking the Atlantic Ocean. The beach doesn't get crowded, which is nice. Another campground (Live Oak) is slightly inland, in a shaded maritime forest.
Whether you're in an RV or tenting, you'll find a campsite to suit your needs at Edisto State Beach Park. The park has 112 sites. Its RV sites offer water and electrical hook-ups but no sewer. If you're tenting you can use a standard campsite, or opt for one of the 5 rustic tent sites (on the marsh side).
Those who prefer a cabin can reserve one of 7 furnished units at Live Oak. These climate-controlled cabins (heated and A/C) come fully furnished with linens, cooking utensils, a microwave, a TV, and a screened-in porch. Cabins and campsites require a minimum 2-night booking.
The park's facilities include a welcome station, day-use area, ranger station, restrooms, and hot showers. Wi-fi is available, as are bike rentals and golf carts (not to be used on the beach). Ice and firewood are available for purchase on-site. The HAPPIE ice cream truck delivers ice cream (go figure), boiled peanuts, and frozen bananas right to your campsite.
Differently-abled campers can use mats to access the beach. There are also 4 miles of ADA-accessible trails at Edisto Beach State Park, which are shared with hikers and cyclists.
Location, geography, and history
Named after the Edisto people, Edisto Beach State Park is situated on Edisto Island in Colleton County. The park occupies an area of 1,255 acres. The island boasts over 4 miles of beaches, allowing for plenty of opportunities for exploration. The park is part of the ACE Basin, which is the East Coast's largest reserve of this type. It offers access to a saltwater marsh, creeks, and the Atlantic Ocean.
The park was donated in 1935 by Edisto Company and developed by the Civilian Conservation Corps (CCC). This New Deal Program offered employment during the Depression while fostering conservation and recreation. Some buildings built by the CCC in the '30s are still in use at Edisto.
A couple of unique historical points of interest include the Spanish Mount Point and the Bache Monument. The Spanish Mount Point is a protected shell midden within the park that dates back to 2,000 BC. The Alexander Dallas Bache Monument was used to measure and map the US east coast in the 1800s. (Information plaques on the monument trail explain this.)
Features, wildlife, and vegetation
Edisto Beach State Park holds 1.5 miles of beach, much of which is shell-lined. A magnificent nature preserve is also found on Edisto Island. This wildlife area contains historic buildings, 2,500 acres of estuarine and marine wetlands, and 2 miles of beachfront, forests, and agricultural lands.
Visitors to Edisto Beach State Park might witness loggerhead sea turtles nesting in the area (please keep a respectful distance). Deer, raccoons, and opossums also hang out here. Edisto's fish species include Whiting, Flounder, and Spottail. Bird watchers will be kept busy along the park trails. Woodpeckers and waterfowl are found in the marsh areas, as are alligators and some snakes.
Be sure to take a walk on one of the park's interpretive trails. These level paths wind through the live oak forest, accompanied by Spanish moss and some of South Carolina's palmetto trees. Red buckeye, loblolly pine, black cherry, sassafras, and southern red cedar are also found at Edisto.
Activities at Edisto State Beach Park
If you're done relaxing on the beach, consider pulling out your fishing pole in Scott Creek Inlet. Alternatively, you can fish from the pier at the Environmental Learning Center. You can also launch your boat from the ramp and explore the ACE Basin.
Visit the Edisto Interpretive Center and learn about the history of Edisto Island and its surrounding area. The Centre promotes wise use of fragile coastal resources. You'll find a touch tank, feeding programs, and prehistoric fossils. You can even rent a naturalist backpack (details here).
Beachcombers might find shells, fossils, or even shark teeth at Jeremy's Inlet. Come nightfall the sky comes alive. The lack of light pollution at Edisto State Beach Park facilitates excellent dark sky views. So, bring a blanket and telescope and bask in the magnificent views.
If you're up for a short trip, the Botany Bay Beach walk is renowned for its beauty. The lovely town of Beaufort makes for a nice day trip. It's only an hour away and is home to delightful shops and cafes.
Risks, cautions, and notes
There are no lifeguards on duty at Edisto State Beach so practice safety while in the water. Ocean waters are unpredictable and conditions change quickly.
Be mindful of the natural habitat at the park. Leave sea turtles alone and follow park rangers' guidelines to prevent harming this population. Do not use motorized vehicles on the beach.
Do not bring firewood to the park from more than 50 miles away, or from other states. Firewood can contain invasive pests that can spread and cause infestations.
Water at the park is treated and safe but has high salt content. Consider filling up at The Town of Edisto Beach water station (limit 5 gal/day) or bring bottled water.
Edisto Beach State Park allows shell collecting. That said, shell collecting is not permitted on Botany Bay Island.
Factsheet
Information about Edisto State Beach Park
Location

Address

8377 State Cabin Rd, Edisto Island, SC 29438, United States

Coordinates

Directions

From Charleston, get on Hwy 17 S; Follow SC-174 to State Cabin Rd in Colleton County

Elevation

10 ft (3 m)

Area

1,255 acres (508 ha)

Terrain

Beach

Maritime forest

Marsh

Contact

Phone

(843) 869-2156

Website

Email

Operator

Links

Facebook

Twitter

Instagram

Resources

Maps

Videos

Reservations

Reservations available

Up to 13 months in advance of arrival date

Fees

Tent campsites start at $25 per night

Beach campsites start at $60 per night

Live Oak campsites start at $36 per night

Cabins start at $135 per night

Minimum stay 2 nights

Online booking

Edisto State Beach Park reservations at South Carolina State Parks

Phone reservations

(866) 345-PARK

Sold-out?

Campground

Season

Open year-round

Access

Number of sites

112

Site types

Tent campsites (rustic w/ centralized water)

RV campsites

Trailer campsites

Cabins (furnished)

Check-in time

2:00 p.m.

Check-out time

10:00 a.m. cabins; 12:00 p.m. camping

Pets

Pets are permitted in most outdoor areas so long as they are not noisy or dangerous. Pets must be restrained or on a 6' (or shorter) leash. Pets are not permitted in the cabins and cabin areas.

Campfires

Fires must be confined to designated grills/areas

Group camping

No

Campsites

Max. site occupants

6

Vehicles per site

2 (must park on site pad)

Maximum vehicle length

40'

Pad type

Gravel

Campsite features

Picnic table, fire ring, grill, some sites with hook-ups

Accessibility

Number of accessible sites

2

Accessible campsites

Beach campsites 43, 45

Accommodations

ADA accessible trails (4 miles)

Beach wheelchair (for loan)

Mostly flat/level campsites

Amenities

Facilities

Beach access

Boat ramp

Day use area

Environmental Learning Center

Park kiosk

Picnic area (with grills)

Picnic shelters (no charge, first-come first-served)

Ranger Station

Restrooms

Showers (hot)

Welcome Station

Hookups

Conveniences

On site

Potable water (high salt contact; consider bringing bottled water)

Ice

Firewood

Grills

Picnic tables

Support

Waste

Activities

Sports

Biking

Hiking

Kayaking

Paddling

Running

Swimming

Walking

Nature

Bird watching

Crabbing

Fishing

Interpretive trails

Stargazing

Surf fishing

Wildlife viewing

Recreation

Beachcombing

Boating

Boat tours

Geocaching

Photography

Picnicking

Service

Wifi

Available free of charge (in the wi-fi room or near the office area)

Carriers

Nearby

Attractions

Campgrounds

Beach campground

Live Oak Campground

Members say

Pros

Just steps to the beach

Beautiful forest trails

Friendly staff

Clean and well maintained

Cons

Some campsites have limited privacy

No sewage hook-ups

Bugs can be bad at some times of year

Tips

Check the tides to plan your beach visit

Take decent footwear to the beach for the shell-strewn areas

Note that firearms are prohibited, as is the consumption of alcohol in public

Best campsites

2, 12, 16, 24, 36, 74, 76, 87, 116, 122
Questions & Answers
Edisto Beach State Park FAQs
How much does it cost to camp at Edisto Beach State Park?
Camping prices at Edisto Beach State Park vary based on the camping type and date of stay. You can camp at Edisto Beach State Park for as little as $25 a night for tent campsites. Beach campsites start at $60 a night. Cabins are available and start at $135 per night. To check exact rates, visit the Edisto Beach State Park Campsite Reservations page.
Does Edisto Beach State Park allow tents on the beach?
The answer to this question varies a bit. The Town of Edisto Beach doesn't allow for overnight camping on the beach. That said, they do allow you to use a tent for shade in the daytime, so long as it is removed at dark. The part of the beach within state park limits also prohibits tent camping on the beach. The park does, however, offer dedicated tent campsites you can stay at.
Is Edisto State Beach dog-friendly?
Yes, Edisto State Beach allows dogs—and dogs loooove exploring the beach. During peak season (May – October) dogs on the beach must be leashed. In the off-season, dogs are allowed off leash. That said, please do clean up after your dogs. Scoop that poop!
Does Edisto State Beach have a boardwalk?
You'll find a number of trails at Edisto Beach State Park. Some of these trails pass through a maritime forest and give you views of the surrounding salt marsh. The boardwalks in this area afford you access to the wetlands where you're bound to see waterfowl.
Is Edisto Beach good for swimming?
Although the ocean is beautiful, visitors should take care near it. The Atlantic Ocean has powerful currents—even when conditions seem mild—these can be dangerous, even for strong swimmers. Watch children closely, wear flotation devices, and take care near the rock piles. Please note: There are no lifeguards on site at Edisto Beach.
What is the difference between Edisto Island and Edisto Beach?
Edisto Island is a Sea Island in South Carolina spread over Charleston and Colleton County. The town of Edisto Beach is situated on the southern tip of this island. Edisto Beach is on the Atlantic Ocean and extends from the townsite north-east to Edisto Beach State Park.
ARE Edisto Beach State Park campsites SOLD OUT?
We can help! Many campsite reservations are cancelled daily. Just tell us when you'd like to camp at Edisto Beach State Park, and how long you want to camp for. We'll text you when a suitable spot opens up!
Scan for cancellations
Contact Edisto Beach State Park
Spotted an error?
Whoops! Sometimes we make mistakes. Want to help improve the Edisto Beach State Park listing? Please suggest a correction.
Reviews
Camper reviews for Edisto Beach State Park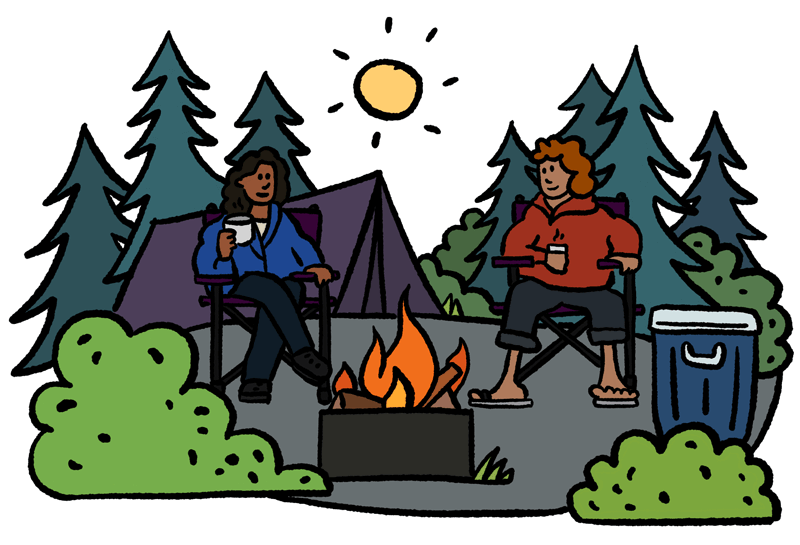 Be the first to post a review of Edisto Beach State Park!
How was your visit to Edisto Beach State Park? Share your review of Edisto Beach State Park and help fellow nature-lovers make an informed decision.
Post a review
Please be nice. Around here, we try to be helpful, inclusive, and constructive.
Map
View a map of Edisto Beach State Park
UNABLE TO RESERVE A CAMPSITE?
Get notified when a sold-out campground has availability
Tell us when, where, and how long you want to camp for. We'll notify you (via SMS) when a suitable spot opens up at that campground—so you can nab that sold-out campsite reservation!