Overview
A brief introduction to San Bernardino National Forest
Your National Forests offer a diversity of outdoor opportunities. These lands are yours - to visit, to care for, but most of all, to enjoy. What are you waiting for? Pack up your family and friends and head for adventure in America's Great Outdoors. The San Bernardino National Forest offers a variety of recreational opportunities... hiking and backpacking, trail riding by horse, bicycle, off-highway vehicles, camping and picnicking, and fishing, and don't forget winter activities such as snowshoeing, cross-country and alpine skiing.
Recreation Passes and Permit
Recreation passes and permits, like the Adventure Pass, are required for use of certain recreation sites and areas in the forest, and for certain facilities and services.
Wilderness Areas
The San Bernardino National Forest has eight designated Wilderness Areas: San Jacinto, Santa Rosa, San Gorgonio, Cucamonga, Bighorn Mountain, Cahuilla Mountain, South Fork San Jacinto, and Sheep Mountain. These areas add an abundance of panoramic vistas, solitude and primitive experiences for visitors. There are outstanding opportunities for hiking, backpacking, cross-country skiing, horseback riding, fishing, and picknicking in Wilderness Areas.
San Bernardino (; Spanish for "Saint Bernardino") is a city and county seat of San Bernardino County, California, United States. Located in the Inland Empire region of Southern California, the city had a population of 222,101 in the 2020 census, making it the 18th-largest city in California. San Bernardino is the economic, cultural, and political hub of the San Bernardino Valley and the Inland Empire. The governments of El Salvador, Guatemala, and Mexico have established the metropolitan area's only consulates in the downtown area of the city. Additionally, San Bernardino serves as an anchor city to the 3rd largest metropolitan area in California (after Los Angeles and San Francisco) and the 13th largest metropolitan area in the United States; the San Bernardino-Riverside MSA.
Furthermore, the city's University District serves as a college town, as home to California State University, San Bernardino.
San Bernardino was named in 1810, when Spanish priest Francisco Dumetz led an expedition through the area. In 1839, the Mexican government granted Californio ranchero José del Carmen Lugo the right to settle the area, which was formalized when he was granted Rancho San Bernardino in 1842. Following the American Conquest of California, the community on the rancho incorporated as a city in 1854. The city grew significantly in the late 19th century as a commercial hub at the crossroads between Southern California and the American Southwest. Today, San Bernardino is an important hub for the Inland Empire and Southern California.
ARE San Bernardino National Forest campsites SOLD OUT?
We can help! Many campsite reservations are cancelled daily. Just tell us when you'd like to camp at San Bernardino National Forest, and how long you want to camp for. We'll text you when a suitable spot opens up!
Scan for cancellations
Contact San Bernardino National Forest
Spotted an error?
Whoops! Sometimes we make mistakes. Want to help improve the San Bernardino National Forest listing? Please suggest a correction.
Reviews
Camper reviews for San Bernardino National Forest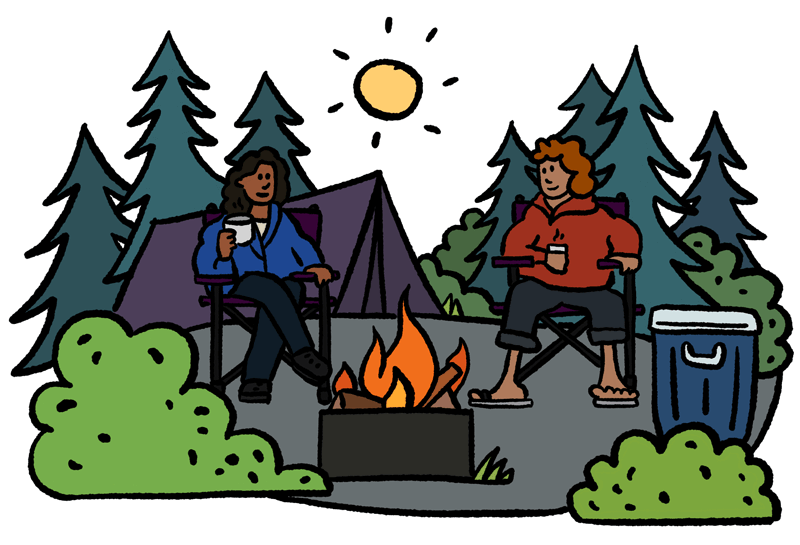 Be the first to post a review of San Bernardino National Forest!
How was your visit to San Bernardino National Forest? Share your review of San Bernardino National Forest and help fellow nature-lovers make an informed decision.
Post a review
Please be nice. Around here, we try to be helpful, inclusive, and constructive.
Map
View a map of San Bernardino National Forest
UNABLE TO RESERVE A CAMPSITE?
Get notified when a sold-out campground has availability
Tell us when, where, and how long you want to camp for. We'll notify you (via SMS) when a suitable spot opens up at that campground—so you can nab that sold-out campsite reservation!