Overview
A brief introduction to Tuttle Creek Lake
Situated in the scenic Flint Hills, Tuttle Creek Lake provides 12,500 surface acres of water and 100 miles of shoreline, making it the second largest lake in Kansas.
Many sites around the lake have been developed to enhance your enjoyment of fishing, boating, camping, picnicking, and outdoor sports. Eleven parks (six managed by the Corps of Engineers, four by the Kansas Department of Wildlife and Parks, and one by Pottawatomie County) offer a wide range of facilities such as overnight camping pads, utility hookups, beaches, comfort stations, boat ramps, and picnic shelters. Also available for lake visitors are a full service marina, nature trails, hiking, equestrian, and off road vehicle trails, and a shooting range.
Additionally, over 16,000 acres of land surrounding the lake have been enhanced to benefit wildlife, providing excellent hunting and wildlife viewing opportunities. Konza Prairie, Kansas State University, Fort Riley, and the Prairie Parkway are among the nearby attractions.
Tuttle Creek Lake is a reservoir on the Big Blue River 5 miles (8 km) north of Manhattan, in the Flint Hills region of northeast Kansas. It was built and is operated by the Army Corps of Engineers for the primary purpose of flood control. Secondary functions of the project include release of water stores to maintain barge traffic on the Mississippi River during seasons of drought, maintenance of a multi-use conservation pool for fish and wildlife enhancement and recreation (fishing, hunting, and boating), and release of sufficient water in droughts to maintain water quality for downstream communities.The base of the dam is bordered by Tuttle Creek State Park, which features 1,200 acres (4.9 km2) of recreational areas, including nature trails, camping sites, and an artificial beach. The state park also hosted the Country Stampede Music Festival every summer from 1996 to 2018.


ARE Tuttle Creek Lake campsites SOLD OUT?
We can help! Many campsite reservations are cancelled daily. Just tell us when you'd like to camp at Tuttle Creek Lake, and how long you want to camp for. We'll text you when a suitable spot opens up!
Scan for cancellations
Contact Tuttle Creek Lake
Spotted an error?
Whoops! Sometimes we make mistakes. Want to help improve the Tuttle Creek Lake listing? Please suggest a correction.
Reviews
Camper reviews for Tuttle Creek Lake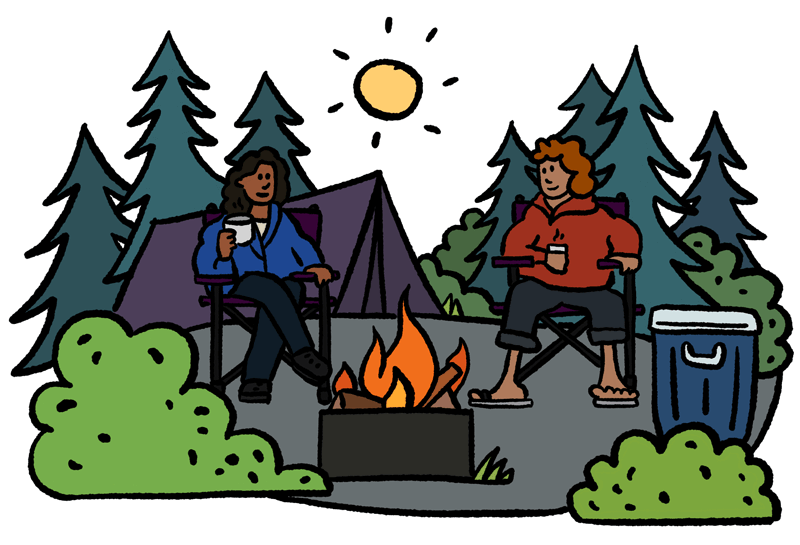 Be the first to post a review of Tuttle Creek Lake!
How was your visit to Tuttle Creek Lake? Share your review of Tuttle Creek Lake and help fellow nature-lovers make an informed decision.
Post a review
Please be nice. Around here, we try to be helpful, inclusive, and constructive.
Map
View a map of Tuttle Creek Lake
UNABLE TO RESERVE A CAMPSITE?
Get notified when a sold-out campground has availability
Tell us when, where, and how long you want to camp for. We'll notify you (via SMS) when a suitable spot opens up at that campground—so you can nab that sold-out campsite reservation!