Overview
A brief introduction to Hot Springs National Park
Hot Springs National Park has a rich cultural past. The grand architecture of our historic bathhouses is equally matched by the natural curiosities that have been drawing people here for hundreds of years. Ancient thermal springs, mountain views, incredible geology, forested hikes, and abundant creeks – all in the middle of town – make Hot Springs National Park a unique and beautiful destination.
Hot Springs National Park is an American national park in central Garland County, Arkansas, adjacent to the city of Hot Springs, the county seat. Hot Springs Reservation was initially created by an act of the United States Congress on April 20, 1832, to be preserved for future recreation. Established before the concept of a national park existed, it was the first time that land had been set aside by the federal government to preserve its use as an area for recreation. The hot spring water has been popularly believed for centuries to possess medicinal properties, and was a subject of legend among several Native American tribes. Following federal protection in 1832, the city developed into a successful spa town.
Incorporated January 10, 1851, the city was known in the early 20th century as the home to Major League Baseball spring training, illegal gambling, speakeasies during the Prohibition era, and gangsters such as Al Capone, horse racing at Oaklawn Park, the Army and Navy Hospital, and 42nd President Bill Clinton. The area was established as a national park on March 4, 1921. Until the redesignation of Jefferson National Expansion Memorial as Gateway Arch National Park in 2018, Hot Springs was the smallest national park by area in the United States. Since Hot Springs National Park is the oldest park maintained by the National Park Service, it was the first to receive its own US quarter in April 2010 as part of the America the Beautiful Quarters coin series.
The hot springs flow from the western slope of Hot Springs Mountain, part of the Ouachita Mountain range. In the park, the hot springs have not been preserved in their unaltered state as natural surface phenomena. They have been managed to conserve the production of uncontaminated hot water for public use. The mountains within the park are also managed within this conservation philosophy to preserve the hydrological system that feeds the springs.
The park includes portions of downtown Hot Springs, making it one of the most accessible national parks. There are numerous hiking trails and camping areas. Bathing in spring water is available in approved facilities at extra cost. The entire Bathhouse Row area is designated as a National Historic Landmark District; it contains the grandest collection of bathhouses of its kind in North America, including many outstanding examples of Gilded Age architecture. The row's Fordyce Bathhouse serves as the park's visitor center; the Buckstaff and Quapaw are the only facilities in 2015 still operating as bathhouses. Other buildings of the row are being restored or are used for other purposes.
ARE Hot Springs National Park campsites SOLD OUT?
We can help! Many campsite reservations are cancelled daily. Just tell us when you'd like to camp at Hot Springs National Park, and how long you want to camp for. We'll text you when a suitable spot opens up!
Scan for cancellations
Contact Hot Springs National Park
Spotted an error?
Whoops! Sometimes we make mistakes. Want to help improve the Hot Springs National Park listing? Please suggest a correction.
Reviews
Camper reviews for Hot Springs National Park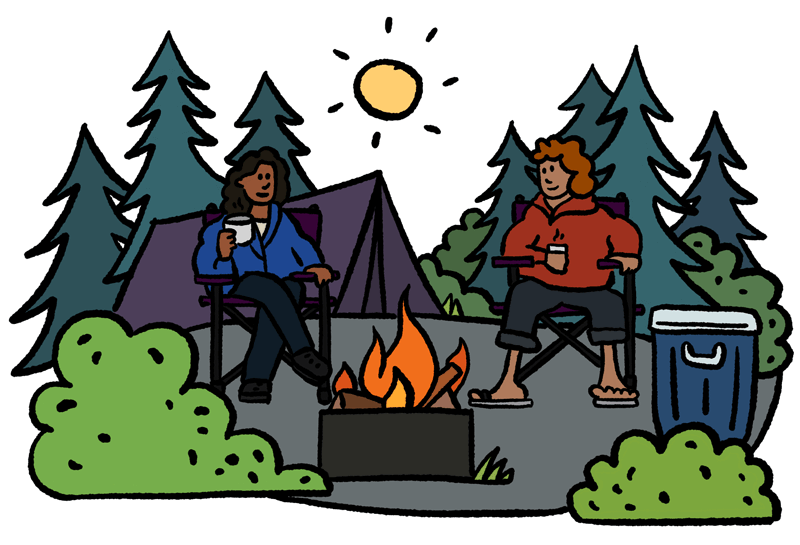 Be the first to post a review of Hot Springs National Park!
How was your visit to Hot Springs National Park? Share your review of Hot Springs National Park and help fellow nature-lovers make an informed decision.
Post a review
Please be nice. Around here, we try to be helpful, inclusive, and constructive.
Map
View a map of Hot Springs National Park
UNABLE TO RESERVE A CAMPSITE?
Get notified when a sold-out campground has availability
Tell us when, where, and how long you want to camp for. We'll notify you (via SMS) when a suitable spot opens up at that campground—so you can nab that sold-out campsite reservation!