Overview
A brief introduction to Congaree National Park
Astonishing biodiversity exists in Congaree National Park, the largest intact expanse of old growth bottomland hardwood forest remaining in the southeastern United States. Waters from the Congaree and Wateree Rivers sweep through the floodplain, carrying nutrients and sediments that nourish and rejuvenate this ecosystem and support the growth of national and state champion trees.
Congaree National Park is a 26,692.6-acre (41.7 sq mi; 108.0 km2) American national park in central South Carolina, 18 miles southeast of the state capital, Columbia. The park preserves the largest tract of old growth bottomland hardwood forest left in the United States. The lush trees growing in its floodplain forest are some of the tallest in the eastern United States, forming one of the highest temperate deciduous forest canopies remaining in the world. The Congaree River flows through the park. About 15,000 acres (23.4 sq mi; 60.7 km2) are designated as a wilderness area.
The park received its official designation in 2003 as the culmination of a grassroots campaign that began in 1969. With 145,929 visitors in 2018, it ranks as the United States' 10th-least visited national park, just behind Nevada's Great Basin National Park.
ARE Congaree National Park campsites SOLD OUT?
We can help! Many campsite reservations are cancelled daily. Just tell us when you'd like to camp at Congaree National Park, and how long you want to camp for. We'll text you when a suitable spot opens up!
Scan for cancellations
Contact Congaree National Park
Spotted an error?
Whoops! Sometimes we make mistakes. Want to help improve the Congaree National Park listing? Please suggest a correction.
Reviews
Camper reviews for Congaree National Park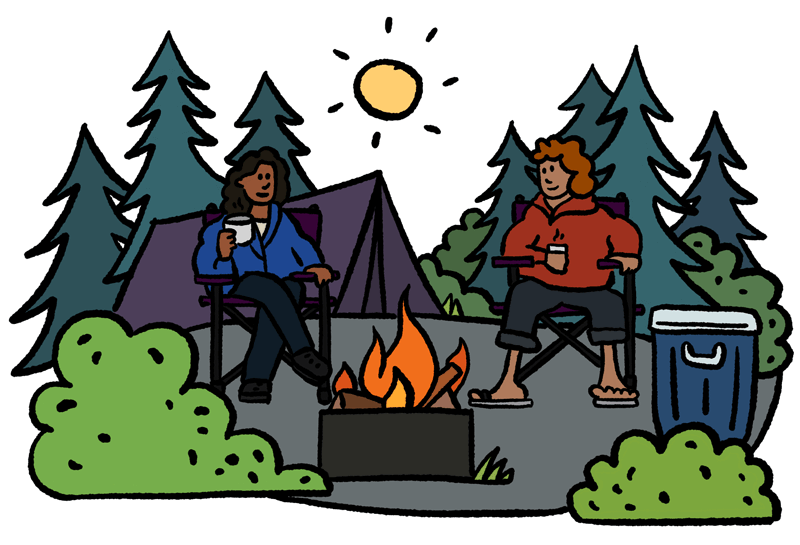 Be the first to post a review of Congaree National Park!
How was your visit to Congaree National Park? Share your review of Congaree National Park and help fellow nature-lovers make an informed decision.
Post a review
Please be nice. Around here, we try to be helpful, inclusive, and constructive.
Map
View a map of Congaree National Park
UNABLE TO RESERVE A CAMPSITE?
Get notified when a sold-out campground has availability
Tell us when, where, and how long you want to camp for. We'll notify you (via SMS) when a suitable spot opens up at that campground—so you can nab that sold-out campsite reservation!