Overview
A brief introduction to Ozark National Scenic Riverways
Ozark National Scenic Riverways is the first national park area to protect a river system. The Current and Jacks Fork rivers are two of the finest floating rivers you'll find anywhere. Spring-fed, cold and clear they are a delight to canoe, swim, boat or fish. Besides these two famous rivers, the park is home to hundreds of freshwater springs, caves, trails and historic sites such as Alley Mill.
The Ozark National Scenic Riverways is a recreational unit of the National Park Service in the Ozarks of southern Missouri in the U.S.
The park was created by an Act of Congress in 1964 to protect the Current and Jacks Fork rivers, and it was formally dedicated in 1971. The park's 80,000 acres (324 km2) are used for many forms of recreation and are home to abundant animal and plant species. 1.3 million recreational visits are estimated annually. Canoeing is one of the most popular activities. Kayaking and inflatable rafts and tubes add to the volume of river floaters. Motorized boating with jonboats is also a popular activity of locals and nearby Missourians. Other activities include horseback riding, hunting, hiking, fishing, camping, birdwatching, nature photography, and sightseeing.
The park service promotes the Current River as one of the midwest's best float streams, in part due to the contributions of some of the nation's largest springs. The headwaters of the Current River begin at the confluence of Pigeon Creek and Montauk Springs in Montauk State Park. Other notable springs along its course include Welch Spring, Cave Spring, Pulltite Spring, Round Spring, Fire Hydrant Spring, Ebb and Flow Spring, Blue Spring, Big Spring, and Gravel Spring. The park contains the United States' largest concentration of first magnitude springs (which are defined as having average flow of more than 100 cu ft/s (2.8 m3/s)) in dolomite rock. The only comparable spring collections are the limestone springs of North Florida near Gainesville and the igneous-based springs of Idaho's Snake River.
The park includes many caves, including Round Spring Caverns, which offers ranger-led tours in the summer. Other notable caves include the Devils Well sink and Jam-Up Cave.The park is traversed by the Ozark Trail, a popular long-distance hiking trail that passes Rocky Falls and crosses the Current River on Highway 106 at Powder Mill.
The park has resident feral horses and elk have been reintroduced on state lands nearby and are expected to eventually populate the park.
Historic sites include Alley Spring and Alley Spring Roller Mill, Buttin Rock School, Walter Klepzig Mill and Farm, Reed Log House, Welch Hospital and many CCC structures at Big Spring.
Facilities include campgrounds along the two rivers at Alley Spring, Round Spring, Pulltite, Two Rivers and Big Spring. There are also a number of less developed primitive campsites, and there are group sites at Akers, Round Spring, Alley and Pulltite. Park rangers present campfire programs and nature hikes at the bigger campgrounds during the summer. There are also traditional craft demonstrations and free bluegrass concerts.
The park is located mostly in Shannon County with parts extending into Carter, Dent, and Texas counties. Communities surrounding the Ozark National Scenic Riverways include Eminence, Licking, Salem, Van Buren, Ellington, Bunker, and Mountain View, Missouri. Administrative offices are located in Van Buren. The Big Spring Historic District in Carter County was listed on the National Register of Historic Places in 1981.
Read more about Ozark National Scenic Riverways at Wikipedia
ARE Ozark National Scenic Riverways campsites SOLD OUT?
We can help! Many campsite reservations are cancelled daily. Just tell us when you'd like to camp at Ozark National Scenic Riverways, and how long you want to camp for. We'll text you when a suitable spot opens up!
Scan for cancellations
Contact Ozark National Scenic Riverways
Spotted an error?
Whoops! Sometimes we make mistakes. Want to help improve the Ozark National Scenic Riverways listing? Please suggest a correction.
Reviews
Camper reviews for Ozark National Scenic Riverways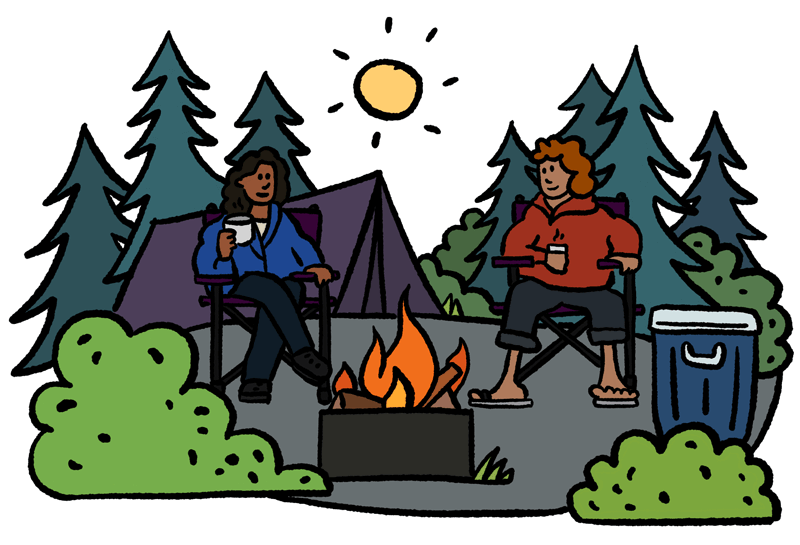 Be the first to post a review of Ozark National Scenic Riverways!
How was your visit to Ozark National Scenic Riverways? Share your review of Ozark National Scenic Riverways and help fellow nature-lovers make an informed decision.
Post a review
Please be nice. Around here, we try to be helpful, inclusive, and constructive.
Map
View a map of Ozark National Scenic Riverways
UNABLE TO RESERVE A CAMPSITE?
Get notified when a sold-out campground has availability
Tell us when, where, and how long you want to camp for. We'll notify you (via SMS) when a suitable spot opens up at that campground—so you can nab that sold-out campsite reservation!