Overview
A brief introduction to Mark Twain National Forest
Mark Twain National Forest has a wide range of popular recreation opportunities. The forest has over 750 miles of trails. There are trails for hiking, horseback riding, mountain biking, and motorized use. The trails vary in length and difficulty.
Approximately 200 miles are completed of the 500-mile Ozark Trail, connecting from St. Louis to the Arkansas border. Plans are to connect the Missouri section with the Ozark Highlands Trail in Arkansas.
The Forest has more than 350 miles of perennial streams, most suitable for floating with canoes, kayaks, rafts, and inner tubes. The Forest and Missouri Department of Conservation maintain river accesses on popular streams.
Permitted outfitters provide services to the public at various locations throughout the forest. 
There are more than 35 campgrounds and picnic areas usually located near a special attraction such as a spring, stream, lake, towering bluff or other scenic area. Campgrounds and picnic areas vary from a few table sites to developed campgrounds. There are no cabins available for rent on the forest at this time.
The forest manages more than 78,000 acres as semi-primitive areas where the only access is by hiking, horseback, or mountain bike. Another 265,000 acres offer semi-primitive motorized recreation. These areas provide moderate to high opportunities for solitude. Hunting and fishing, with a valid Missouri Department of Conservation fishing license, are permitted in these areas.
In addition, Mark Twain National Forest has seven Congressionally-designated Wilderness areas and 26,000 "special areas." Special areas are managed for the protection of unusual environmental, recreation, cultural or historical resources, and for scientific or educational studies.
The Recreational Sites are broken down by Districts which are located in 1 of 4

zones. Each zone contains maps of recreation opportunities for that zone,

included on these map are some of the local government facilities that are also

available.
Zone 1 Cedar Creek, Houston and Rolla Ranger District

Zone 2 Ava, Cassville and Willow Springs Ranger District

Zone 3 Eleven Point and Poplar Bluff Ranger Districts

Zone 4 Potosi, Fredericktown and Salem Ranger Districts
For District specific Recreational Opportunities
Ava/Cassville/Willow Springs

Eleven Point

Houston/Rolla/Cedar Creek

Poplar Bluff

Potosi/Fredericktown

Salem
For up-to-date information on closures and other current conditions, see "Alerts

& Notices" on the left.
Rolla () is a city in, and the county seat of, Phelps County, Missouri, United States. Its population in the 2020 United States Census was 19,943. It is approximately midway between St. Louis and Springfield along I-44. Its micropolitan statistical area consists of Phelps County, Missouri.
It is the home of the Missouri University of Science and Technology, well known for its many engineering departments and computer science department.
The headquarters of the Mark Twain National Forest is in Rolla. The city is also within the Ozark Highlands American Viticultural Area, with vineyards first established by Italian immigrants to the area.
ARE Mark Twain National Forest campsites SOLD OUT?
We can help! Many campsite reservations are cancelled daily. Just tell us when you'd like to camp at Mark Twain National Forest, and how long you want to camp for. We'll text you when a suitable spot opens up!
Scan for cancellations
Contact Mark Twain National Forest
Spotted an error?
Whoops! Sometimes we make mistakes. Want to help improve the Mark Twain National Forest listing? Please suggest a correction.
Reviews
Camper reviews for Mark Twain National Forest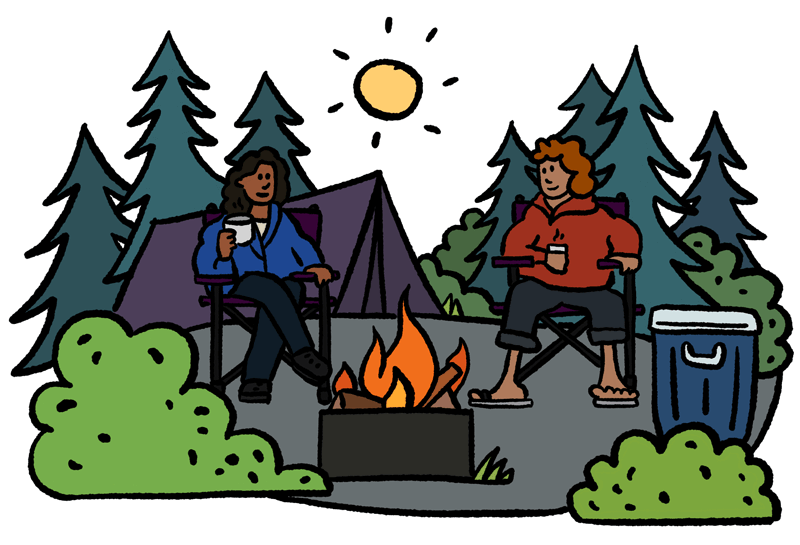 Be the first to post a review of Mark Twain National Forest!
How was your visit to Mark Twain National Forest? Share your review of Mark Twain National Forest and help fellow nature-lovers make an informed decision.
Post a review
Please be nice. Around here, we try to be helpful, inclusive, and constructive.
Map
View a map of Mark Twain National Forest
UNABLE TO RESERVE A CAMPSITE?
Get notified when a sold-out campground has availability
Tell us when, where, and how long you want to camp for. We'll notify you (via SMS) when a suitable spot opens up at that campground—so you can nab that sold-out campsite reservation!