Overview
A brief introduction to Fort Washington Park
Built to defend the river approach to Washington, DC, Fort Washington has stood as silent sentry for over 200 years. As technologies advanced so did Fort Washington, from the brick and stone of the 19th century to the concrete and steel of the 20th century. Joining the National Park Service in 1946, the park continues to protect the Potomac River.
Fort Washington, located near the community of Fort Washington, Maryland, was for many decades the only defensive fort protecting Washington, D.C. The original fort, overlooking the Potomac River, was completed in 1809, and was begun as Fort Warburton, but renamed in 1808. During the War of 1812, the fort was destroyed by its own garrison during a British advance.
The current historic fort—maintained by the National Park Service—was initially constructed in 1824. It is a stone structure with a good cannon shot down the Potomac River. The fort was extensively remodeled in the 1840s and 1890s. The Fort was turned over to the U.S. Department of the Interior in 1946 after its last military personnel departed.The expansive grounds of the present Fort Washington Park, with its extensive hiking/bicycle paths and river view, are a scenic venue for picnicking, fishing, and outdoor recreation. Historical re-enactments are held periodically at the Fort, and there is a small museum. In 2006, repairs were done to shore up the crumbling outer wall, in preparation for the 200th anniversary.
The Fort Washington Light, located below the fort, was established in 1857. The current tower, standing 28 feet tall, was constructed in 1882.
ARE Fort Washington Park campsites SOLD OUT?
We can help! Many campsite reservations are cancelled daily. Just tell us when you'd like to camp at Fort Washington Park, and how long you want to camp for. We'll text you when a suitable spot opens up!
Scan for cancellations
Contact Fort Washington Park
Spotted an error?
Whoops! Sometimes we make mistakes. Want to help improve the Fort Washington Park listing? Please suggest a correction.
Reviews
Camper reviews for Fort Washington Park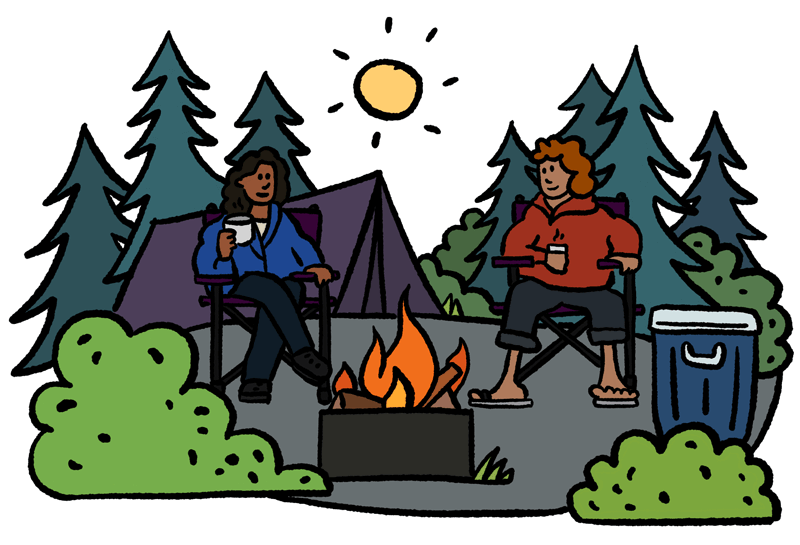 Be the first to post a review of Fort Washington Park!
How was your visit to Fort Washington Park? Share your review of Fort Washington Park and help fellow nature-lovers make an informed decision.
Post a review
Please be nice. Around here, we try to be helpful, inclusive, and constructive.
Map
View a map of Fort Washington Park
UNABLE TO RESERVE A CAMPSITE?
Get notified when a sold-out campground has availability
Tell us when, where, and how long you want to camp for. We'll notify you (via SMS) when a suitable spot opens up at that campground—so you can nab that sold-out campsite reservation!