Overview
A brief introduction to Kodiak National Wildlife Refuge
Kodiak is a rugged, beautiful island on the coast of southwestern Alaska. Established in 1941, the refuge provides habitat for brown bear, salmon and other wildlife. Kodiak's scenery is magnificient- rugged mountains, hundreds of miles of shoreline, lakes, marshes, bogs, and meadows. Four-thousand-foot mountains rise from the sea accented with fjordlike inlets. Lush vegetation blankets the mountains ranging from sedges, alders, and spruce to colorful wildflowers and berries.



The 1.9 million-acre Kodiak National Wildlife Refuge roughly encompasses the southwestern two-thirds of Kodiak Island, Uganik Island, the Red Peaks area on northwestern Afognak Island, and all of Ban Island. No place on the refuge is more than 15 miles from the Pacific Ocean. Without roads, the refuge provides a wilderness setting for fish, wildlife, and humans alike.



The refuge is home to an estimated 2,300 brown bears, and at least 600 nesting pairs of bald eagles. More than 250 species of birds live upon or visit the refuge, while more than 1.5 million seabirds overwinter in nearshore waters surrounding Kodiak Island.



The refuge also provides spawning and rearing habitat for all five North American species of Pacific salmon. Salmon produced on the refuge make up approximately 65% of the total commercial harvest in the Kodiak Archipelago.



Kodiak refuge offers superb recreational opportunities. These include hunting, fishing, wildlife observation, photography, rafting and camping. The refuge also maintains several remote public-use cabins.



The refuge headquarters and visitor center are located on Buskin River Road, five miles south of downtown Kodiak or 0.5 miles north of the State Airport. Directional signs are posted in town and along Resauof Drive. The center offers displays, videos of Kodiak, a small Alaska Natural History Association bookstore, and trip planning information. In addition, refuge staff offer interpretive programs for visitors and assistance to schools and other groups interested in outdoor class room experiences.



Backcountry Basics:

Be bear safe: keep a clean camp. Cook, clean and store food away from sleeping areas. Bear proof food containers and electric fences are recommended.



Do not camp within 100 feet of a drinkable water source.



Don't litter; pack out all trash. There should be no sign of your use when you are ready to leave.



Toilet areas should be away from sleeping areas and water sources. Bury human waste at least six inches deep.



Disturbing and/or removing archaeological artifacts is illegal.



Prepare for changes in weather and unexpected delays.



Practice the principles of minimum impact back country travel.
The City of Kodiak (Alutiiq: Sun'aq) is the main city and one of seven communities on Kodiak Island in Kodiak Island Borough, Alaska. All commercial transportation between the island's communities and the outside world goes through this city via ferryboat or airline. As of the 2020 census, the population of the city is 5,581, down from 6,130 in 2010. It is the tenth-largest city in Alaska.
Inhabited by Alutiiq natives for over 7,000 years, Kodiak was settled in 1792 by subjects of the Russian crown. Originally named Paul's Harbor, it became the capital of Russian Alaska. Russian harvesting of the area's sea otter pelts led to the near extinction of the animal in the following century and led to wars with and enslavement of the natives for over 150 years. The city has experienced two natural disasters in the 20th century: a volcanic ashfall from the 1912 eruption of Novarupta and a tsunami from the 1964 Alaska earthquake.
After the Alaska Purchase by the United States in 1867, Kodiak became a commercial fishing center which continues to be the mainstay of its economy. A lesser economic influence includes tourism, mainly by those seeking outdoor adventure trips. Salmon, halibut, the unique Kodiak bear, elk, Sitka deer (black tail), and mountain goats attract hunting tourists as well as fishermen to the Kodiak Archipelago. The Alaska Department of Fish and Game maintains an office in the city and a website to help hunters and fishermen obtain the proper permits and learn about the laws specific to the Kodiak area.
The city has four public elementary schools, a middle and high school, as well as a branch of the University of Alaska. An antenna farm at the summit of Pillar Mountain above the city historically provided communication with the outside world before fiber optic cable was run. Transportation to and from the island is provided by ferry service on the Alaska Marine Highway as well as local commercial airlines.
Read more about Kodiak National Wildlife Refuge at Wikipedia
ARE Kodiak National Wildlife Refuge campsites SOLD OUT?
We can help! Many campsite reservations are cancelled daily. Just tell us when you'd like to camp at Kodiak National Wildlife Refuge, and how long you want to camp for. We'll text you when a suitable spot opens up!
Scan for cancellations
Contact Kodiak National Wildlife Refuge
Spotted an error?
Whoops! Sometimes we make mistakes. Want to help improve the Kodiak National Wildlife Refuge listing? Please suggest a correction.
Reviews
Camper reviews for Kodiak National Wildlife Refuge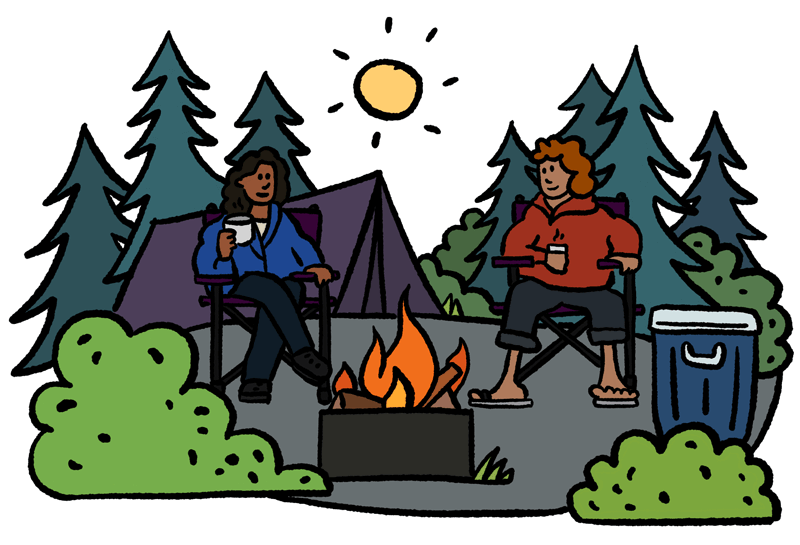 Be the first to post a review of Kodiak National Wildlife Refuge!
How was your visit to Kodiak National Wildlife Refuge? Share your review of Kodiak National Wildlife Refuge and help fellow nature-lovers make an informed decision.
Post a review
Please be nice. Around here, we try to be helpful, inclusive, and constructive.
Map
View a map of Kodiak National Wildlife Refuge
UNABLE TO RESERVE A CAMPSITE?
Get notified when a sold-out campground has availability
Tell us when, where, and how long you want to camp for. We'll notify you (via SMS) when a suitable spot opens up at that campground—so you can nab that sold-out campsite reservation!