Overview
A brief introduction to Interstate State Park
Interstate Park comprises two adjacent state parks on the Minnesota–Wisconsin border, both named Interstate State Park. They straddle the Dalles of the St. Croix River, a deep basalt gorge with glacial potholes and other rock formations. The Wisconsin park is 1,330 acres (538 ha) and the Minnesota park is 298 acres (121 ha). The towns of Taylors Falls, Minnesota and St. Croix Falls, Wisconsin are adjacent to the park. Interstate Park is within the Saint Croix National Scenic Riverway and the Ice Age National Scientific Reserve. The western terminus of the Ice Age National Scenic Trail is on the Wisconsin side. On the Minnesota side, two areas contain National Park Service rustic style buildings and structures that are listed on the National Register of Historic Places.
ARE Interstate State Park campsites SOLD OUT?
We can help! Many campsite reservations are cancelled daily. Just tell us when you'd like to camp at Interstate State Park, and how long you want to camp for. We'll text you when a suitable spot opens up!
Scan for cancellations
Contact Interstate State Park
Spotted an error?
Whoops! Sometimes we make mistakes. Want to help improve the Interstate State Park listing? Please suggest a correction.
Reviews
Camper reviews for Interstate State Park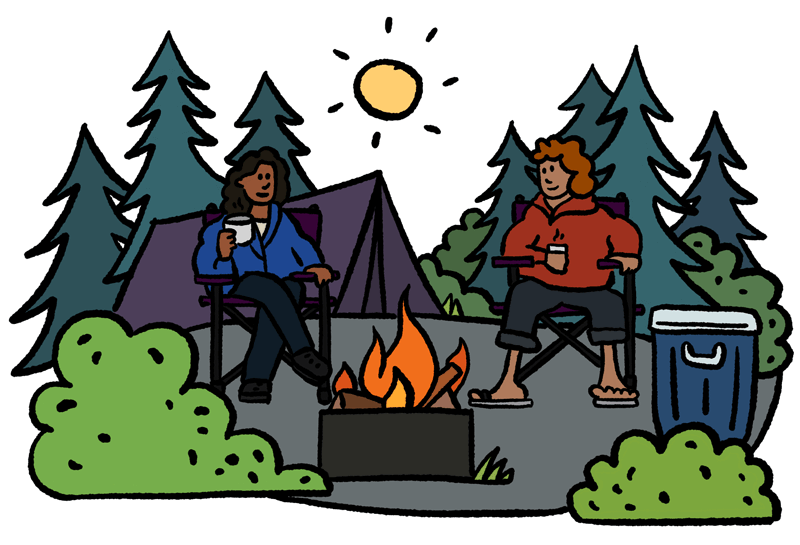 Be the first to post a review of Interstate State Park!
How was your visit to Interstate State Park? Share your review of Interstate State Park and help fellow nature-lovers make an informed decision.
Post a review
Please be nice. Around here, we try to be helpful, inclusive, and constructive.
Map
View a map of Interstate State Park
UNABLE TO RESERVE A CAMPSITE?
Get notified when a sold-out campground has availability
Tell us when, where, and how long you want to camp for. We'll notify you (via SMS) when a suitable spot opens up at that campground—so you can nab that sold-out campsite reservation!