Overview
A brief introduction to Prince Edward Island National Park
Just 24 km north of Charlottetown, getting to Prince Edward Island National Park is a breeze via Route 6. The park's crowning glory, the captivating red sandstone cliffs, makes it a must-see destination. Find yourself immersed in diverse activities like beachcombing, wildlife watching, and cycling on the Gulf Shore Way. But wait, there's more: the park is also home to Green Gables Heritage Place, where Lucy Maud Montgomery's beloved Anne of Green Gables sprang to life!
Camping at Prince Edward Island National Park
Embrace the great outdoors at PEI National Park, where both tranquil backcountry and convenient car camping options attract nature enthusiasts. With three distinct campgrounds—Cavendish, Stanhope, and Brackley Beach—you'll be captivated by their picturesque seaside locations, lush foliage, and well-maintained grounds.
PEI National Park offers a diverse range of over 200 campsites to suit everyone's needs. Tent campers can find secluded spots, while RV enthusiasts have access to spacious sites with water, electrical, and sewer hook-ups for a comfortable experience. Some sites even feature pull-through access for larger rigs.
At PEI National Park, you'll find an array of top-notch amenities. Expect pristine washroom facilities, hot shower stations, and laundry services to keep you feeling fresh. The friendly and knowledgeable park staff are always available to provide assistance, answer questions, or share insider tips. Waste management options are well-planned, including garbage, recycling, and sani dump stations, ensuring a clean and eco-friendly environment.
Accessibility is a top priority at PEI National Park. Several ADA-designated campsites are thoughtfully equipped with accessible picnic tables, fire pits, and leveled surfaces. The park is committed to inclusivity, featuring accessible trails, facilities, and beach access points. Rest assured, service animals are not only allowed but are warmly welcomed to accompany visitors throughout their stay.
Location, geography, and history
Nestled along PEI's captivating north shore, the 27 km² Prince Edward Island National Park is a coastal paradise. This stunning parkland spans a diverse landscape, weaving through charming seaside communities like Cavendish and Brackley Beach while showcasing picturesque shorelines and lush countryside.
PEI National Park boasts a unique geography that harmoniously blends sandy dunes, vibrant red sandstone cliffs, and serene salt marshes. As you wander through the park's tranquil forests and meadows, you'll uncover a diverse ecosystem reflecting the region's maritime character, complete with breathtaking ocean vistas and an abundance of coastal wildlife.
Dive into the rich history of PEI National Park, where the surrounding area's past is steeped in the traditions of Indigenous peoples, including the Mi'kmaq, who thrived on the island for thousands of years. European settlers, mainly of French and British origins, arrived in the 1700s, altering the landscape with their agricultural practices and settlements.
The park itself was established in 1937, preserving not only the natural beauty but also the storied heritage. Notably, the legendary Green Gables site, nestled in the heart of the park, served as Lucy Maud Montgomery's inspiration for her iconic novel, Anne of Green Gables. Today, the park proudly celebrates this literary legacy, inviting visitors to explore the enchanting world of Anne Shirley.
Wildlife and vegetation
At PEI National Park, you'll encounter an impressive array of fauna. Look for the iconic red fox, as well as other mammals like the Eastern coyote and snowshoe hare. The park is also home to various amphibians, reptiles, and invertebrates, including the northern leopard frog, eastern garter snake, and green crab. Offshore, you might spot Atlantic herring or mackerel, while birdwatchers can delight in observing piping plovers, great blue herons, and bald eagles. Keep an eye out for the rare and endangered Gulf of St. Lawrence aster!
The park's lush flora contributes to its enchanting atmosphere. Stroll through forests filled with red spruce, balsam fir, and sugar maple trees. Maritime plants like the beach pea and seaside plantain thrive in the park's unique coastal environment, while shrubs such as bayberry and wild rose create dense thickets. Don't forget to pause and admire the beautiful wildflowers, including the iconic lady's slipper, the provincial flower of PEI. The park's diverse vegetation provides a picturesque backdrop for your adventure, enriching the overall experience.
Activities at Prince Edward Island National Park
PEI National Park offers an array of sporting activities for the adventure-seeker. Kayaking tops the list, as visitors glide through crystal-clear waters. Test your skills with beach volleyball or try stand-up paddleboarding for a unique challenge. The park also features cycling trails, perfect for exploring the picturesque landscape.
Nature enthusiasts can indulge in wildlife viewing at PEI National Park, spotting diverse species in their natural habitats. Embark on interpretive walks or immerse yourself in exhibits and guided tours, where park staff share their knowledge of the park's ecology and history.
Recreational activities abound in PEI National Park, offering something for everyone. Visit the Green Gables Heritage Place to delve into the world of Anne of Green Gables, or enjoy family-friendly activities like picnicking and beachcombing. Kids can join in the fun at the park's interactive playgrounds, while parents unwind at serene seaside locations, soaking up the sun and listening to the gentle ocean waves.
Risks, tips, and notes
Visitors to PEI National Park should remain vigilant about potential risks. When encountering wildlife such as foxes or coyotes, maintain a safe distance and avoid feeding them. Exercise caution when swimming, as rip currents can be dangerous, especially in rough waters. Pay attention to sudden weather changes and keep clear of unstable cliff edges by staying on marked trails. Secure your valuables and lock your vehicle to prevent theft, which can occur in any public setting.
The ideal time to visit PEI National Park is from late June to early September, as this period offers the best weather, fully operational facilities, and a variety of activities. Before your trip, consult the local weather forecast and pack essentials like sunscreen, insect repellent, comfortable footwear, and clothing suitable for variable weather conditions. A camera is a must to capture unforgettable moments and the park's stunning landscapes.
Campers at PEI National Park love the park's unspoiled beaches, diverse wildlife spotting opportunities, and the warm, welcoming atmosphere created by staff and fellow visitors. Some campers may find the park's popularity during the peak season leads to crowded trails and limited availability of facilities. However, the memories of spectacular sunsets, cozy campfires filled with laughter, and the revitalizing power of nature's splendor will linger long after you leave the park.
ARE Prince Edward Island National Park campsites SOLD OUT?
We can help! Many campsite reservations are cancelled daily. Just tell us when you'd like to camp at Prince Edward Island National Park, and how long you want to camp for. We'll text you when a suitable spot opens up!
Scan for cancellations
Contact Prince Edward Island National Park
Spotted an error?
Whoops! Sometimes we make mistakes. Want to help improve the Prince Edward Island National Park listing? Please suggest a correction.
Reviews
Camper reviews for Prince Edward Island National Park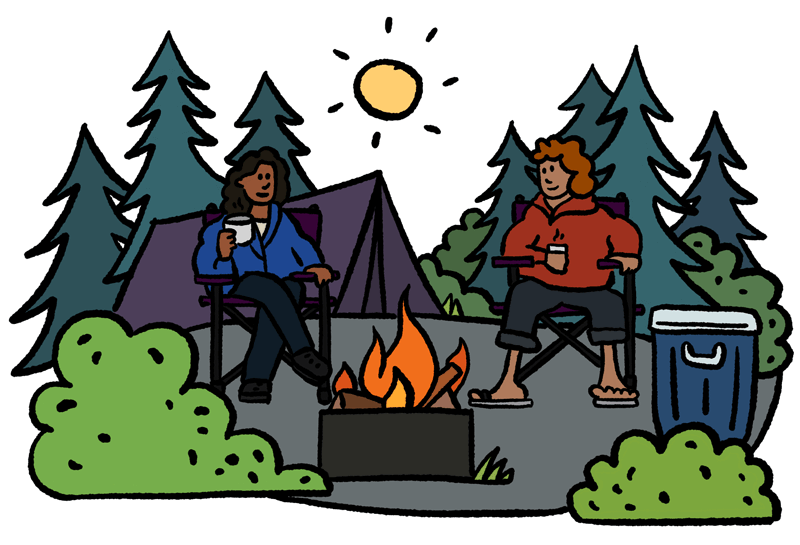 Be the first to post a review of Prince Edward Island National Park!
How was your visit to Prince Edward Island National Park? Share your review of Prince Edward Island National Park and help fellow nature-lovers make an informed decision.
Post a review
Please be nice. Around here, we try to be helpful, inclusive, and constructive.
Map
View a map of Prince Edward Island National Park
UNABLE TO RESERVE A CAMPSITE?
Get notified when a sold-out campground has availability
Tell us when, where, and how long you want to camp for. We'll notify you (via SMS) when a suitable spot opens up at that campground—so you can nab that sold-out campsite reservation!