Overview
A brief introduction to Saylorville Lake
The Saylorville Lake Project is 26,000 acres, which stretches for over 50 miles up the Des Moines River Valley. A wide variety of recreational activities are available including fishing, picnic areas with group shelters, boat launches, an accessible fishing pier, river fishing, hunting, and a 24-mile paved, multipurpose trail used for biking, hiking, jogging, walking, and in-line skating.
Saylorville Lake is a reservoir on the Des Moines River in Iowa, United States. It is located 11 miles (18 km) upstream from the city of Des Moines, and 214 miles (344 km) from the mouth of the Des Moines River at the Mississippi River. It was constructed as part of a flood control system for the Des Moines River as well as to aid in controlling flood crests on the Mississippi, of which the Des Moines is a tributary. The lake and dam is owned and operated by the U.S. Army Corps of Engineers, Rock Island District.
At its normal level of 836 feet (255 m) above sea level, Saylorville Lake covers an area of 5,950 acres (24 km2) or 9.3 square miles (24.1 km2) and reaches some 17 miles (27 km) upstream. At full flood stage the lake can reach 16,700 acres (68 km2) or 26.1 square miles (67.6 km2) and reach 54 miles (87 km) long. At this point any further flow into the lake is channelled over an emergency spillway to the west of the main dam structure. The record high stage for the reservoir was 892.03 feet (271.89 m) above sea level set on July 11, 1993 during the Great Flood of 1993.
Construction of the Saylorville Dam was authorized by Congress in 1958. Excavation began at the site in July 1965, becoming fully operational in September 1977. The dam itself is 6,750 feet (2,057 m) long, 105 feet (32 m) tall, and 44 feet (13 m) wide at the top.
The lake is utilized for many recreational activities in the central Iowa area as well, as there is a large state park infrastructure surrounding the area of the lake, notably Jester Park and Big Creek State Park. The Corps of Engineers operates several recreation areas, campgrounds, and boat ramp facilities around the lake. Boating and swimming are very popular, as are camping, deer and game bird hunting, fishing, hiking, biking and disc golf. Coast Guard Auxiliary Flotilla 4 provides boating safety education and free vessel safety checks to boaters in the area.
Fish species that can be found in the lake include crappie, bluegill, green sunfish, largemouth bass, smallmouth bass, brown trout, northern pike, common carp, white bass, walleye, yellow bass, american eel, flathead catfish, channel catfish, bullheads, and hybrid striped bass.
ARE Saylorville Lake campsites SOLD OUT?
We can help! Many campsite reservations are cancelled daily. Just tell us when you'd like to camp at Saylorville Lake, and how long you want to camp for. We'll text you when a suitable spot opens up!
Scan for cancellations
Spotted an error?
Whoops! Sometimes we make mistakes. Want to help improve the Saylorville Lake listing? Please suggest a correction.
Reviews
Camper reviews for Saylorville Lake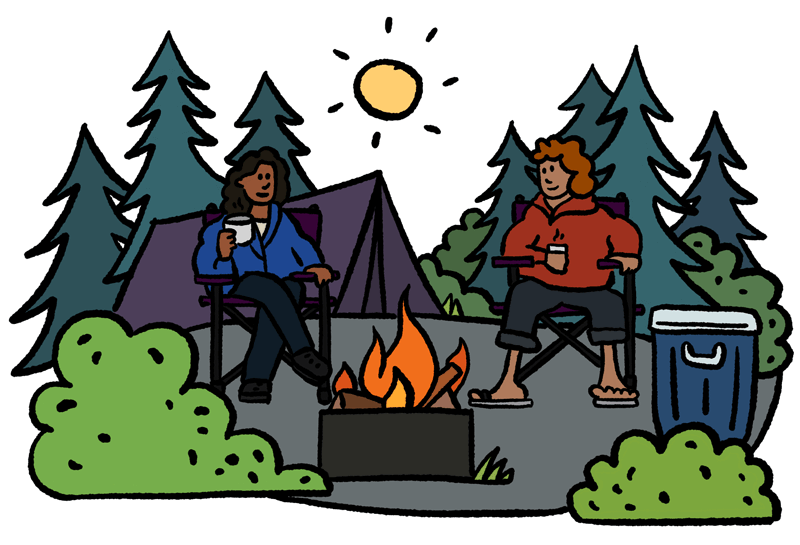 Be the first to post a review of Saylorville Lake!
How was your visit to Saylorville Lake? Share your review of Saylorville Lake and help fellow nature-lovers make an informed decision.
Post a review
Please be nice. Around here, we try to be helpful, inclusive, and constructive.
Map
View a map of Saylorville Lake
UNABLE TO RESERVE A CAMPSITE?
Get notified when a sold-out campground has availability
Tell us when, where, and how long you want to camp for. We'll notify you (via SMS) when a suitable spot opens up at that campground—so you can nab that sold-out campsite reservation!